Dual Conductor Grounding is Dependable, Convenient, and Accurate!
Transforming Technologies, proudly introduces, our new line of dual conductor coil cords, wrist straps and our exceptional resistance workstation monitor, the CM2015.
Dual conductor resistance workstation monitoring is the most reliable grounding system available. Resistance monitors use specialized wrist bands and ground cords which contain two independent conducting elements that provide fail-safe ground protection. The CM2015 uses only 200mv and continuously monitors two (2) operators and two (2) work surfaces
Designed to compare with 3M* dual conductor wrist straps, Transforming Technologies now offers a value alternative for these premium products. We incorporate the best design elements of expired patent # 5,018,044 with our own experience making premium quality ESD products. Transforming Technologies and 3M's dual conductor products are functionally equivalent. The wristbands, coil cords and resistance monitors can be use together in any combination!
Download our Dual Conductor Brochure
Resistance Workstation Monitor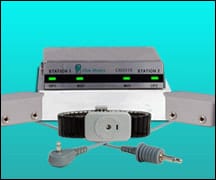 Utilizing very precise, low voltage, resistive loop technology, the CM2015 is an extremely sensitive and reliable instrument that uses the operator's skin resistance to determine if the system is operating properly.
Audible and visible alarms are triggered if the operator's resistance exceeds 10 or 35 megohm (electable at factory with default of 35 megohm). Low resistance   also triggers an alarm event.                                                       CM2015                                                                                                                                                            Used with Dual Conductor Wrist Band and Coil Cords
Dual Conductor Wrist Bands
WB0070 (Fabric) /WB0050 (Metal)                                                                                                                                                                                     

Dual Conductor wrist strap sets are used to maximize ESD protection. These specialized bands use two contact circuits to create a two paths two ground.
WB0050: An expandable Speidel®* metal band available in small, medium and large sizes.
 WB0070: One-size-fits-all! Features a silver-plated, monofilament, continuous                                                           thread with elastic nylon for full                                                                         conductivity and comfort.
Dual Conductor Coil Cords
CC3000 Series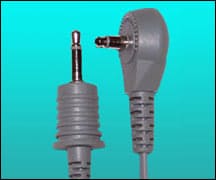 Transforming Technologies Dual Conductor Coil Cords provide unmatched reliability and value. The CC3000 features a double insulated jacket that provides incredible durability.
A wide diameter straight plug makes it easy to insert and remove the cord from a remote input jack. The CC2080 series features dual grey and black 4mm sockets                                                            help maintain a constant connection.
Our Mission
Transforming Technologies' mission is to provide you with the highest quality ESD products in the industry. We continuously research and develop new technology in static control so that we can provide you the best products possible. Our name is not a coincidence, it is our goal to transform the ESD industry and we do that one new and unique product at a time.
Transforming Technologies has the ESD protection you need.
Contact us today.