Ensure Your ESD Workstation is Static-Safe with a the CM300 Spartan Series Single Wire Constant Monitor
The Spartan Series Constant monitors provide ongoing testing of single wire wrist straps and ESD worksurfaces. The CM310 not only eliminates time consuming wrist strap testing, it removes the danger of wrist straps failing in the field and possibly exposing highly sensitive materials to static. Both audible and visual alarms signal when the wrist straps  or worksurface ground fail. Enclosed in a durable metal case with built in mounting brackets, the monitors can be installed underneath table tops to save work space. The Spartan series monitors meet or exceed the recommendations of ANSI ESD S20.20.
Specifications:
Technology: Capacitance
Capabilities:  Single Wire Wrist Straps

CM300 – One Wrist Strap
CM310 – One Wrist Strap, One Worksurface
CM320 – Two Wrist Straps, One Worksurface

Alarms: Audible and Visual Alarms Indicate a Ground Failure
Ease of Use: Simply Plug in a Wrist Strap To Begin Monitoring
Factory Calibrated: Fixed Resistor System, no Adjustments Needed.
Request a Free Quote on the Spartan Constant Monitors
Contact Transforming Technologies for pricing on the Spartan Series Constant Monitors. Call 419-841-9552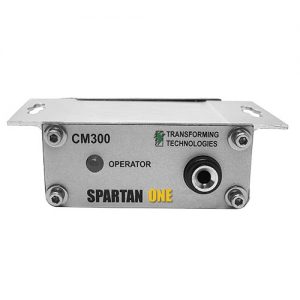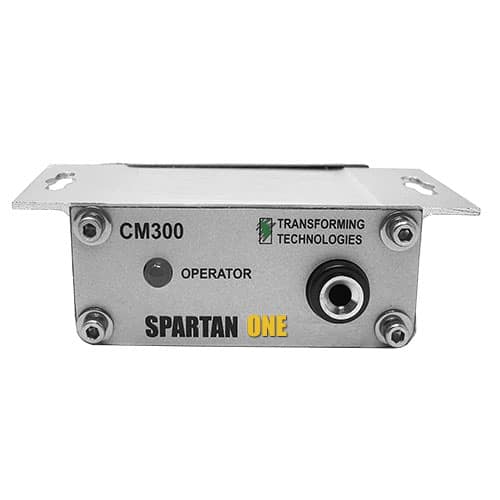 Why Use The Spartan Monitors?
The first and best line of defense against static damage is wrist strap grounding. Manufacturers all around the world rely on wrist straps to ground personnel, but they are not without problems. Wrist straps wear out over time and become non-functional. Wrist straps must be regularly tested to ensure they are working properly.  This is usually done before the work shift begins.  But this method of testing only catches non-functioning wrist straps at that moment.  It does nothing to catch wrist straps that break during the shift.
The Spartan ESD Constant monitors reduce production costs by eliminating the time spent on testing wrist straps before each shift. Further savings may be realized by reduced ESD damage from broken wrist straps during a work shift.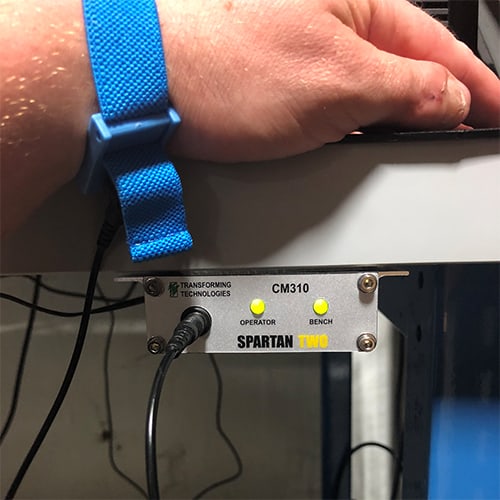 Capacitance Monitoring Technology
Constant monitors, also called continuous monitors in ESD-S20.20, are designed to provide testing of the wrist strap system. There are several types of constant monitors technologies available.  The Spartan Monitors use  capacitance technology.  The monitors are designed to detect the capacitance of the person and ground. A signal is sent out through the wrist strap and when the capacitance of both are present, the monitor goes into an unalarmed state. If the electrical connection to the person or to ground should fail, the circuit will detect this change in capacitance and will alarm state to signal there is a problem.
Durable Anodized Aluminium Case
The Spartan Series Monitors are enclosed in a durable, anodized aluminum case. The case is superior to plastic cases that are common in the market.  The aluminum shields the monitor from electromagnetic interference (EMI) emitted by items such as fluorescent lights or tools.  With plastic cases, the EMI near by may cause the monitor to malfunction. The Spartan cases solve this problem as well as provide a enhanced durability that is needed in today's manufacturing environment.  All three monitors have builtin mounting brackets for installation underneath work benches.
Request Information
Would you like more information on the Spartan Series Constant Monitors?  Fill out the form below for samples, pricing, questions or for technical support.