About Cut Resistant Gloves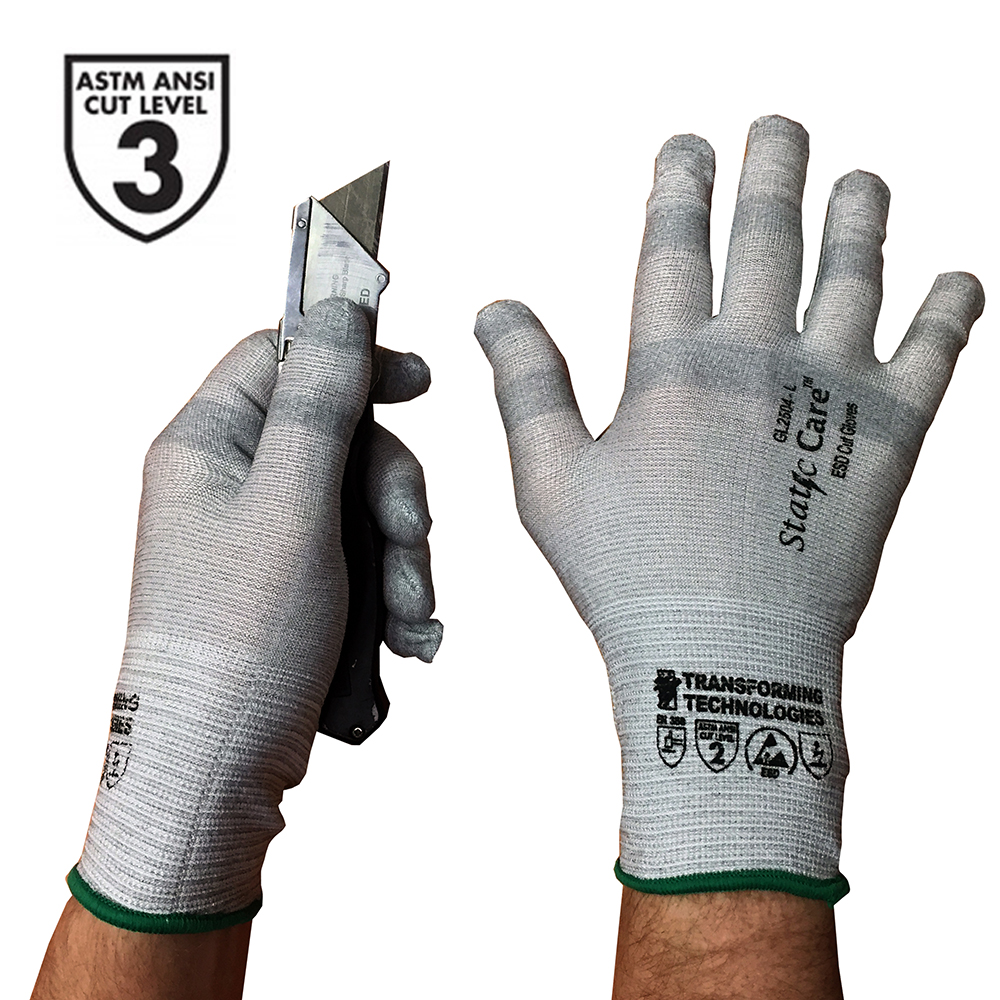 Cut Resistance Gloves
Cuts and lacerations are responsible for nearly 30% of lost-time work injuries in North America, the majority of which are to the hands. Wearing the correct glove is the most critical factor in proper hand protection. It's even more important to understand cut resistant gloves and the characteristics they hold. Cut-resistant gloves come in various fabrics offering different level of cut resistance. It's important to consider the requirements of a particular application when choosing a glove material. Transforming Technologies specializes in anti-static gloves which improves the quality of products or solves a process issue.
What Are Cut-Resistant Gloves?
Cut Resistant Gloves can be divided into three categories based on the materials they are made from: metal mesh gloves, cut-and-sewn, and seamless knitted gloves.
Metal mesh gloves are a form of chainmail and are made of rings of stainless steel.
Cut-and-sewn gloves can be made using only a cut-resistant material or by using conventional materials with full or palm lining of cut-resistant materials. The materials are cut to shape and sewn into a glove.
Seamless knitted gloves are knitted in one piece and the cut protection is provided by high performance materials such as Para aramid (Twaron, Kevlar), Ultra High Molecular Weight Polyethylene (UHMWPE), special PVA yarns (SupraBlock) or steelfibre and fibreglass yarns. The gloves are usually coated with solid or foamed Latex, Nitrile or Polyurethane.
Which Cut Resistant Glove Is Right For Me?
Not all cut-resistant gloves are created equal and that's a good thing, depending on the severity of the hazards that you're facing. The best rated glove is the one that protects against the hazards you face. A worker who uses a box cutter once a day doesn't need the same protection as someone who works in metal stamping eight hours a day.
Using a glove designed for heavy-duty cut protection for a light-duty application has a snowballing effect: If a worker has less dexterity in the glove, they won't be able to do their job right. If they can't do their job right, they won't wear the glove and then compliance takes a hit. Then the risk of hand injury skyrockets!
How Are Cut-Resistant Gloves Rated:
There are two common standards used for measuring the cut-resistant properties of gloves. One used primarily in North America and the other is used in Europe and Asia.
North American Standard (ANSI/ISEA 105-2016): The protection level is given by a number between 1 and 9, where 9 indicates the highest cut protection.All gloves are tested on a TDM1000 machine which provides uniform testing.
Transforming Technologies supplies a Cut Level 2 ESD Gloves.
The glove sample is placed on a conductive strip and loaded onto the TDM-100. When the metal blade touches the metal strip, the test is terminated.
A straight blade is loaded into the machine.
Weight is added to serve as force.
The blade moves across the fabric.
The blade is replaced with a new one to ensure accuracy.
The sample is cut five times, each with three different loads.
The distance traveled to cause cut through at various forces is recorded.
The data is used to determine the load required to cut through the sample.
The glove receives a rating based on the above information between A1 and A9, with A1 being the lowest and A9 being the highest level of cut protection.
European Standard (EN 388): The protection level is given by a number between 1 and 5, where 5 indicates the highest cut protection. Until 2016, the Coup Test, as described below, was the only test used under the EN 388 standard. The standard update in 2016 introduced the ISO 13997 concept, which closely relates to the North American standard test.
A test sample is taken from the palm of a glove.
A rotating circular blade moves back and forth across the test sample until a cut-through is achieved.
The test sample is compared to a reference material (usually cloth).
The reference material and the test sample are cut alternately until at least five results are achieved.
To help account for a loss is sharpness to the blade, the reference material is cut before and after the test sample.
The cut resistance is a ratio of the number of cycles needed to cut through the test sample compared with the reference material.
Can You Wash Cut-Resistant Gloves?
The short answer is yes. Laundering and dry cleaning have no significant impact on the protective properties of cut-resistant gloves. Most quality cut-resistant gloves will retain their protective properties even after ten or more washes. It is important that you follow manufacturer instructions when washing cut-resistant gloves.
Frequently Asked Questions:
Q. Do cut-resistant gloves offer good puncture-resistance?
A. No. Many cut resistant gloves are manufactured to protect hands from being slashed by sharp objects like knives/blades. However, they may provide very little or no puncture resistance from a pointed item, such as a needle.
Q. What is the difference between puncture resistance and needle or needlestick resistance?
A. Needles are sharp, beveled cutting instruments designed to pierce the skin. To stop them you need to stop the cutting action by putting something hard in front of them, such as the protective guard plates found in SuperFabric® brand materials. ASTM/EN388 test probes are rounded and tear fabric instead of cutting as it penetrates. This rounded ASTM/EN388 tip functions more to test bust strength whereas the .25G medical needle tests true needle resistance. Various testing bodies throughout the world have acknowledged this deficiency and are adapting standards to meet this. Two examples are the Canadian research organization IRRST and the ASTM F23 Standards committee, who are working together to design a standard that uses the same test procedures as tested herein.
Q. Should cut-resistant gloves be used to protect one from cuts from powered/mechanical equipment like powered saws and drills?
A. Most all manufacturers of cut-resistant gloves will not suggest the use of cut-resistant gloves for protection against powered devices. Gloves are typically tested for use with non-powered blades and sharps only.
The use of a glove with powered equipment could potentially harm an individual. If the moving blade catches the glove, it could result in a person getting pulled into moving machinery. Moving machine parts have the potential for causing severe workplace injuries, such as crushed fingers or hands, amputations, burns, or blindness. Safeguards are essential for protecting workers from these needless and preventable injuries. Any machine part, function, or process that may cause injury must be safeguarded, especially when the operation of a machine or accidental contact with it can injure the operator or others in the vicinity. These hazards must be either eliminated or controlled.
Q. What makes HexArmor products highly cut and puncture resistant?
A. HexArmor® products offer industry leading cut protection through the innovative configuration of SuperFabric® technology which provide resistance to lacerations and slashes like no other material on the market. Typical cut-resistant products are made of high performance yarns such as Kevlar®, Dyneema®, or Spectra®. While blends of these technologies protect users from straight edged cut hazards, they do not offer sufficient protection from variable hazards such as metal burrs, wires, or slivers.