WB0016 Single Wire Blue ESD Wrist Band 4mm snaps - Blue
ESD Protection: Versatile blue ESD wrist strap that is a durable and long-lasting method of grounding personnel. Works with most standard single wire 4mm coil cords.
Comfortable: Made with a soft woven fabric that is comfortable to wear for long periods
Hypoallergenic: The fabric band uses hypoallergenic silver-plated nylon thread (for conductivity) which will not irritate your skin
Durable: The coil cord is durable and has excellent coil memory.  The fabric band can last for years.
Cost-Effective: The  one-size-fits all wrist strap is versatile and is priced very competitively for the quality
Part Number: WB0016-TT
Versatile Blue ESD Wrist Band that is a durable and long-lasting method of grounding personnel. Works with most standard single wire 4mm coil cords.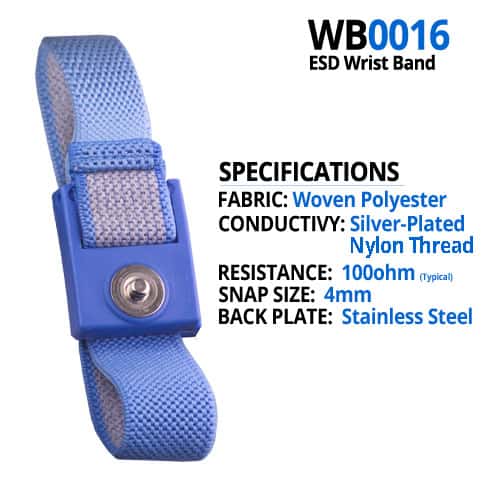 The WB0016 Blue ESD Wrist Band is the most versatile and popular ESD wrist band offered by Transforming Technologies. The soft, blue woven fabric and 360°curved buckle of the wrist band allows the skin to breathe and makes it very comfortable to wear. The blue ESD wrist band uses hypoallergenic silver-plated nylon thread for conductivity and has a maximum resistance of 160 ohms. The band is standard with a 4mm sized snap, but 7mm and 10mm snap is available. It is also available in Red with a 4mm snap – Model number WB2600.
The WB0016 blue ESD wrist band can be used to replace worn wrist straps from existing sets or it can be paired with one of Transforming Technologies coil cords.  It can be purchased in sets with coil cords. See table below for the WB1600 Series options.
Anti-static wrist strap sets are great personal grounding solutions and the WB1600 series meets or exceeds requirements of ANSI ESD-S20.20 and ESDA Standard 1.1-2006.
WB1600 Series Options
| Part Number | Description |
| --- | --- |
| WB0016 | Woven Wrist Band Only, Blue, 4mm Snap |
| WB0017 | Woven Wrist Band Only, Blue, 7mm Snap |
| WB0018 | Woven Wrist Band Only, Blue, 10mm Snap |
| WB0026 | Woven Wrist Band Only, Maroon, 4mm Snap |
| WB1637 | Wrist Strap Set, 6' Coil Cord, 4mm Snap, Blue Fabric Band |
| WB1643 | Wrist Strap Set, 12' Coil Cord, 4mm Snap, Blue Fabric Band |
| WB1738 | Wrist Strap Set, 6' Coil Cord, 7mm Snap, Blue Fabric Band |
| WB1744 | Wrist Strap Set, 12' Coil Cord, 7mm Snap, Blue Fabric Band |
| WB1839 | Wrist Strap Set, 6' Coil Cord, 10mm Snap, Blue Fabric Band |
| WB1845 | Wrist Strap Set, 12' Coil Cord, 10mm Snap Blue Fabric Band |
| WB169020 | Wrist Strap Set, 20' Coil Cord, 4mm Snap, Blue Fabric Band |