MT4500 Series: Two-Layer Rubber ESD Table Mats - 0.080" Thick
ESD PROTECTION:  The MT4500 Series mats have a resistance of less than 1.0x10^9 ohms and provides reliable ESD protection for the life of the mat.
TESTED AND PROVEN:  The mats have been independently tested and meets or exceeds all industry standards for worksurfaces.
EXCELLENT QUALITY: Premium 0.080" thick ESD table mats protect your sensitive items as well as your work surface.
DURABILITY: Excellent resistance to hot solders, soldering irons, most solvents and wear-and-tear.
OPTIONS: Available in 50ft rolls or an assortment of Ready-Made Table Mats
Colors: Nasa Blue, Royal Blue, Green, and Gray
Part Number: MT4500
Description
Premium 0.080″ thick ESD table mats protect your sensitive items as well as your work surface.
The MT4500 Series Two-Layer Rubber ESD Table Mat is a made from durable 2-ply rubber. A conductive layer backs the static dissipative top layer that creates outstanding electrical performance characteristics. The 4500 Series offers excellent resistance to hot solders, soldering irons and most solvents.
MT4500 series ESD table mat is 0.080″ thick and available in 50′ long rolls in 24″, 30″, 36″, and 48″ widths. Pre-cut mat sizes are packaged individually with two (2) female 10 mm snaps and a common point ground cord.  Learn more about the pre-cut mats.
Meets or exceeds requirements of ANSI ESD-S20.20 and the recommendations of ANSI/ESD STM4.1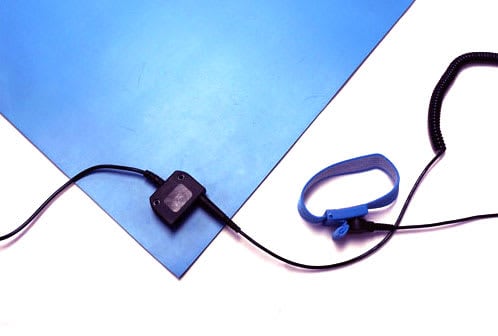 ESD Worksurface Mats
Transforming Technologies has the most cost effective ESD rubber mats available. Order a Full Roll of rubber and cut pieces as needed or order Pre-Cut Mats in standard sizes or have us create custom mats to fit your workstation. All pre-cut ESD rubber mats come with a grounding hardware: a common point ground cord and 2 grounding snaps.  Our low profile common point ground cord has two banana jacks which provide a ground point for two wrist straps.
---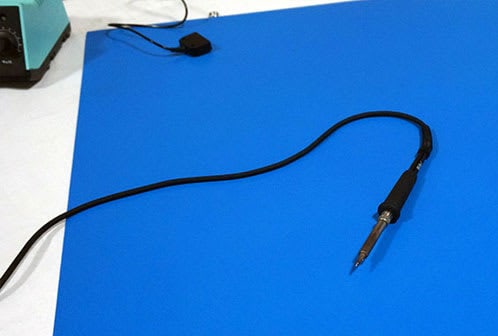 Protect Your Work Surfaces
Our ESD rubber table mats are the perfect solution for protecting tables from harsh processes.  The mats offer excellent resistance to hot solders, soldering irons and most solvents.  The mats are excellent for your production table because they are incredibly durable resisting scratching and gouging processes.
---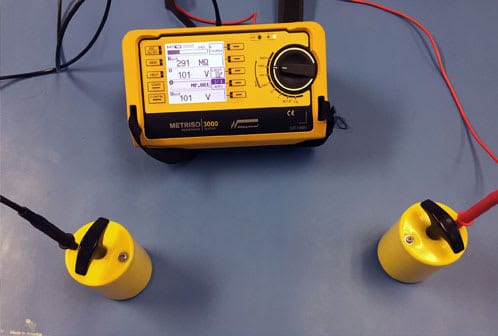 ESD Protection According to Industry Standards
The MT4500 series matting provides reliable ESD protection for the life of the mat.  The material has been independently tested and meets or exceeds all industry standards for worksurfaces.
All three styles of work surface mats supplied by Transforming Technologies meet the point-to-point and point-to-groundable point resistance requirements of ANSI/ESD S20.20 when tested at both low and moderate relative
humidity with a resistance meter. According to ANSI/ESD S20.20, an acceptable work surface will have a point to point and a point to groundable point resistance of less than 1.0×10^9 ohms