BEMCOT™ Wipers for Automotive Processes
The high cost of polyester knit wipes requires multiple uses and multiple washing cycles — leading to additional costs, overhead and a breakdown of the wipes with excess lint.
The solution: Bemcot Wipers
Why Bemcot Lint-Free Wipers?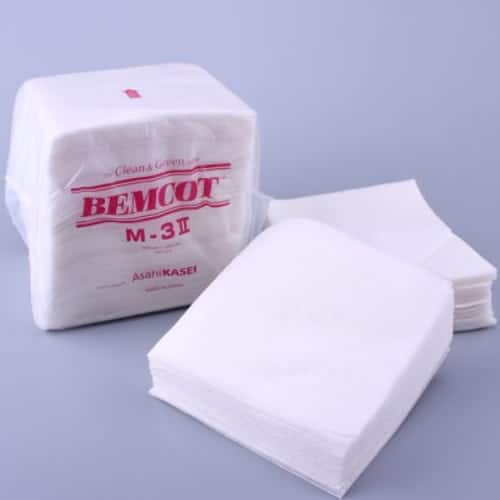 With over twenty years as the cleanroom wiper of choice in Japan, Bemcot are the only wipers made from Bemliese™, the 100% pure cellulosic nonwoven fabric derived from cotton linter. The Bemliese production process forms a pure nonwoven sheet by self-bonding continuous filaments with no binder or other additives. Bemcot wipers provide a unique combination of key advantages using renewable natural cotton linter:
Low particle generation
Anti-static
High purity
Heat resistance
High absorbency
Biodegradability
High chemical resistance
Ecoefficiency
BEMCOT is used by  Toyota, Honda and other Top Automotive Manufacturers in Japan.
Key Benefits for Automotive
1. High Absorption: For removing sealant and particles
2. Lint Free: Ultra-low fiber release for maintaining clean surface areas
3. Exceptional Price Performance: 1/2 to 1/3 price of polyester knit wipers
4. Green: Biodegradable and ecoefficientt – 100% natural cotton linter
Typical Usage for Automotive Surface Preparation
1. Sealant Removal: Removing excess sealant prior to painting
2. Glue Removal: Removing excess glue during windshield, sunroof or other glass installations
3. Glass Cleaning: Cleaning of head lights, sunroof or other glass parts
Learn More About BEMCOT M3 Cleanroom ESD Wipers or Fill Out The Form Below.