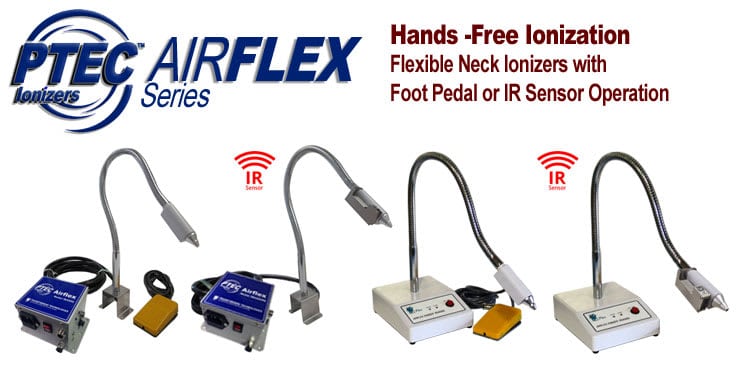 Hands Free, Pin-Point Ionization Directed Anywhere You Need It
Transforming Technologies' AirFLEX IN4000 Series Ionizer's flexible neck allows you to target the air flow directly at the intended surface for optimal static eliminating performance. Airflow is triggered by a footswitch or proximity sensing eye so you can have hands-free ionization only when you need it. The AirFLEX ionizers are valuable because they can be mounted in hard to reach areas that larger ionizers just can not handle.
Ptec™ Focused Air Ionization
The AirFLEX ionizer has optional nozzle tip attachments, that can handle unique and difficult point-of-use ionization applica-tions. Spread ionized air in many ways such as wide angle, manifold, long range, angled, or with a flexible extension tube.
Ptec™ Stability
The IN4000 uses Ptec™, a specialized piezoceramic technology, to create a high-frequency AC ionizing output with exceptional balance and decay performance. Ionizers that use Ptec™ technology do not require calibration and only minimal maintenance.
Applications
The IN4000 is designed to neutralize electrostatic charges in personal bench top environments, sensitive materials assembly, SMT, Electronics Assembly, Automotive packaging, clean room and laboratory environments.