Description
The PTEC IN6200 ionizing gun is a point-of-use static neutralizer that removes charges as well as contamination by dislodging charged dust and debris.
The PTEC IN6200 ionizing gun is a lightweight but durable static removal gun.  It provides superior control and targeted particulate removal for a wide variety of industrial applications. As a forceful neutralizer and blow-off gun, IN6200 easily removes stubborn particulate from surfaces. As a neutralizer, the IN6200 gets rid of troublesome charges responsible for the attraction of contaminants to product surfaces.
The IN6200 is designed for the user's comfort with its flexible cord and easy-to-use trigger switch. The controls are integrated into the gun body, including ionization monitoring light, replaceable long-lasting air filter and air output regulator. The cable is protected by a heavy vinyl covered metal shielding. The included power supply mounts with ease above or below the work surface. The unit's "shock-less" design prevents users from experiencing uncomfortable shocks if the ionizing point is touched. The IN6200 accepts both compressed air or inert gases, including nitrogen.
Features and Benefits
Fast, efficient static neutralization with maintenance-free AC technology
Constructed with durable Fiberglass Reinforce Plastic
Equipped with Quick-Disconnect Air Fittings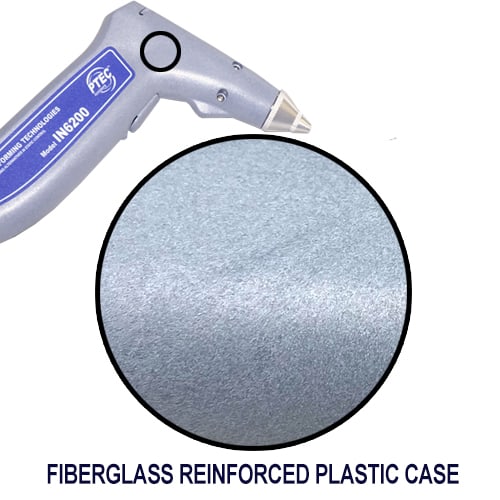 Durable Fiberglass Reinforced Plastic
The IN6200 ionizing gun is constructed with Fiberglass Reinforced Plastic (FRP).  FRP is a strong, impact-resistant composite material commonly used in the aerospace, automotive, marine, and construction industries. FRP repels dirt and stains making it an ideal surface for high-use manufacturing settings.  It can withstand coming into contact with corrosive liquids and chemicals without weakening or breaking. The IN6200 is built to last!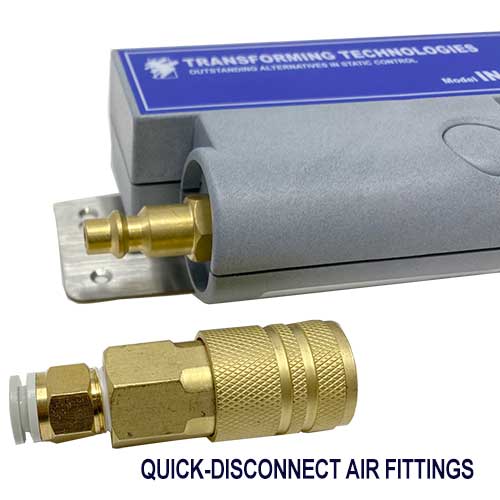 Quick Disconnect Air Fittings
The IN6200 utilities Quick-Disconnect air fittings that provide a fast and easy connection to air lines.  The Quick Disconnect air fittings save time and simplifies installation and allows the gun to be quickly moved to other locations.  The fittings provide a solid connection to the air source and prevent air leakage.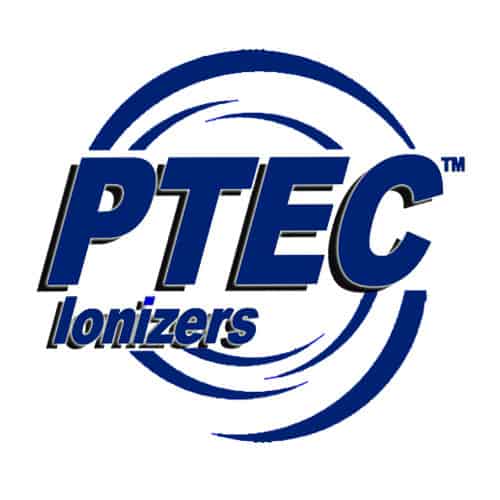 About Ptec™ Technology
A specialized piezoelectric high voltage transformer makes Ptec™ ionizers among the most reliable ionizers manufactured. Small, lightweight and stable, Ptec™ products are designed to remain in balance and to alarm when the HV output affects performance. The model IN5110 benchtop static eliminator produces a 68KHz AC output of approximately 2200V and a continuous stream of balanced air ions. Ionizers that use Ptec™ technology do not require calibration* and only minimal maintenance. AC technology to produce a balanced output of air ions (+/-15 volts) with lower maintenance requirements than DC ionizers. Emitter contamination and wear are virtually non-existent with AC ionizing guns.
Applications:
The IN6200 is designed to neutralize electrostatic charges in personal bench top environments, sensitive materials assembly, SMT, Electronics Assembly, Automotive packaging, clean room and laboratory environments.
Verification and Calibration:
The IN6200 ionizer comes factory calibrated and with a calibration certificate.  Ionizer performance can be tested and verified with a charge plate monitor. Important tests to perform are positive and negative decay times and ion balance. It is recommended to test ionizer performance at least 1 per year.