FM11 PV Series Industrial ESD Interlocking Tile Floor Mats
Low-compression ESD modular tile - 20"x20"x1"
Capable of tolerating the heavy loads and harsh conditions associated with industrial environments
Diamond-plate emboss surface
Optional yellow beveled borders for visibility and safety
Part Number: PV3010
Low-compression ESD floor tiles for industrial environments.
The PV Series Comfort matting is structurally robust and is capable of tolerating the heavy loads and harsh conditions associated with industrial environments while providing a comfortable, ESD- safe area for people required to stand for long periods of time. Safety ramp edging, in matching black or high visibility yellow, ensures a safer transition to and from the ESD work area.
Exceptional Comfort
The PVC tiles incorporate a unique under structure of "compression columns" which act as springs when weight is applied to counter the negative effects of impact or standing for prolonged periods. This ergonomic concept has been shown to significantly increase user comfort so not only will your static sensitive products be protected, your work force will be as well.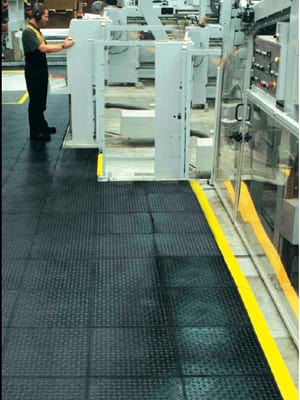 Easy Installation of ESD Flooring
The interlocking design makes the flooring simple to install and easy to configure. The professional look and functional safety of installations is completed with black or high-visibility yellow, non-ESD safety ramp edging that locks on to the modular tiles. Grounding wires and other cabling can be installed under the tiles.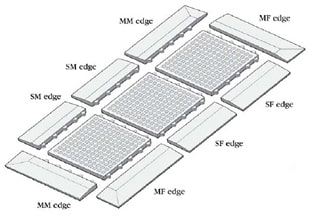 Easy Cleaning
The PV Series flooring can be cleaned like most other flooring surfaces – by sweeping, vacuuming and washing. A mixture of 30% distilled water and 70% isopropyl alcohol, sprayed on and wiped with a clean cotton cloth removes dirt build-up.