PGT120.COM
Showing the single result
Warmbier PGT120.COM Data Logging ESD Tester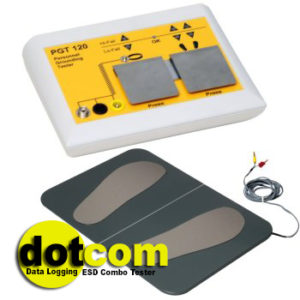 A complete data logging ESD test station for ESD heel straps/footwear and wrist straps. The PGT120.COM ESD grounding tester takes quick and accurate resistance measurements of ESD wrist straps, ESD
More Info
TESTING: Independently test the functioning of ESD footwear & wrist strap grounding products and signals if there is a problem
INTELLIGENT: A "Smart" ESD Combo tester that integrates with a computer to record test results into a database
DATA TERMINALS: Requires the one of three Data Terminal to record data: DataTerminal2, DataTerminal3 with RFID reader and TC18 Touch Screen Computer.
PLUG AND PLAY: Can work with many other USB devices such as label printer, RFID reader, card reader, keypad, light signal, bar code scanner and more
HANDS-FREE: Automatically test footwear in hands-free mode
ACCURATE: Uses a 100volt test circuit (by default) which is the same voltage used for qualification tests.  Adjustable to 30 or 50volts as well.
BARRIERS: The PGT120.COM can integrate with a door/barrier system and trigger the barrier to open with a PASS test. Interested in a Turnstile? Learn more about our AccessPRO turnstile system.